Never retire your desire to live well.
Select from four distinctive, open concept floor plans, with variations ranging from 887 to 1,894 square feet, and choose the residence that feels most like home to you. Every residence features fully applianced kitchens, open living and dining area, one or two large bedrooms and a full washer and dryer.
What's more, the majority of apartments offer outdoor balconies to enjoy the beautiful, natural surroundings. For an additional fee, you may customize certain features of your apartment. We offer a 90% refundable entrance fee financial plan option, or a rental option for a limited number of select senior apartments.
Floor plans include: The Willows, The Maples, The Elms and The Oaks. Floor plan variations, residence costs and monthly fees are detailed below.
Please note, that no matter which style apartment you select, your monthly fee will include:
Maintenance and landscaping
Weekly housekeeping
Dining (one meal per calendar day)
Complimentary transportation within a 10-mile radius
Social events, from guest speakers to fun getaways
On-site activities — fitness classes, clubs, crafts, spiritual groups, movies and more
Take a virtual video tour right from your living room.
Elm II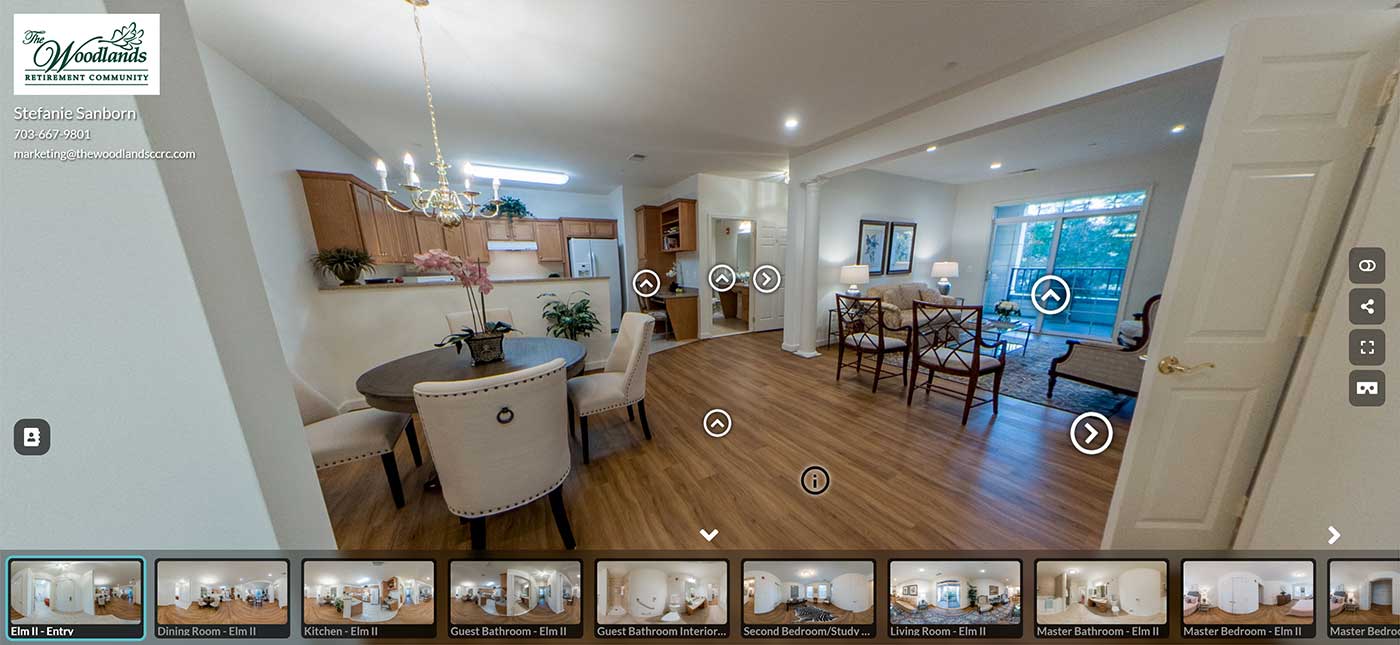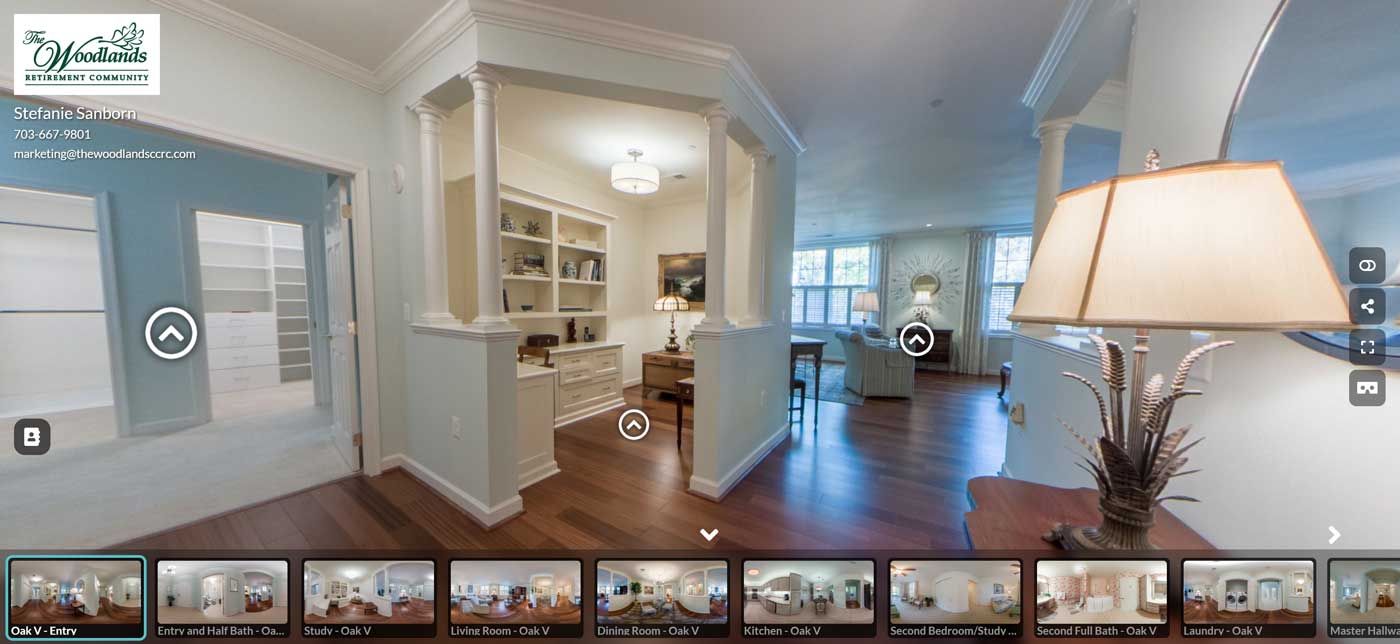 Willow III
1 BR
Sq. Ft. – 932
Entrance Fee Program:
Entrance Fee 90% Refundable: $372,000
Monthly Fee: $5,099
Second Occupant: $1,602
Rental Program:
Community Fee Non-refundable: $12,000
Monthly Fee: $7,202
Second Occupant: $2,191
Willow IV
1 BR
Sq. Ft. – 887
Entrance Fee Program:
Entrance Fee 90% Refundable: $346,000
Monthly Fee: $4,932
Second Occupant: $1,602
Rental Program:
Community Fee Non-refundable: $12,000
Monthly Fee: $6,854
Second Occupant: $2,191
Maple II
1 BR w/ Den
Sq. Ft. – 947
Entrance Fee Program:
Entrance Fee 90% Refundable: $384,000
Monthly Fee: $5,779
Second Occupant: $1,602
Rental Program:
Community Fee Non-refundable: $12,000
Monthly Fee: $7,328
Second Occupant: $2,191
Maple III
1 BR w/ Den
Sq. Ft. – 1,251
Entrance Fee Program:
Entrance Fee 90% Refundable: $500,000
Monthly Fee: $6,562
Second Occupant: $1,602
Rental Program:
Community Fee Non-refundable: $12,000
Monthly Fee: $8,838
Second Occupant: $2,191
Maple IV
1 BR w/ Den
Sq. Ft. – 980
Entrance Fee Program:
Entrance Fee 90% Refundable: $397,000
Monthly Fee: $6,055
Second Occupant: $1,602
Rental Program:
Community Fee Non-refundable: $12,000
Monthly Fee: $7,929
Second Occupant: $2,191
Maple V
1 BR w/ Den
Sq. Ft. – 1,020
Entrance Fee Program:
Entrance Fee 90% Refundable: $410,000
Monthly Fee: $6,259
Second Occupant: $1,602
Rental Program:
Community Fee Non-refundable: $12,000
Monthly Fee: $8,253
Second Occupant: $2,191
Elm I
2 BR
Sq. Ft. – 874
Entrance Fee Program:
Entrance Fee 90% Refundable: $360,000
Monthly Fee: $5,470
Second Occupant: $1,602
Rental Program:
Community Fee Non-refundable: $12,000
Monthly Fee: $6,795
Second Occupant: $2,191
Elm II
2 BR
Sq. Ft. – 1,240
Entrance Fee Program:
Entrance Fee 90% Refundable: $510,000
Monthly Fee: $6,451
Second Occupant: $1,602
Rental Program:
Community Fee Non-refundable: $12,000
Monthly Fee: $9,367
Second Occupant: $2,191
Elm III
2 BR
Sq. Ft. – 1,451
Entrance Fee Program:
Entrance Fee 90% Refundable: $580,000
Monthly Fee: $7,076
Second Occupant: $1,602
Rental Program:
Community Fee Non-refundable: $12,000
Monthly Fee: $9,959
Second Occupant: $2,191
Elm IV
2 BR
Sq. Ft. – 1,462
Entrance Fee Program:
Entrance Fee 90% Refundable: $595,000
Monthly Fee: $7,180
Second Occupant: $1,602
Rental Program:
Community Fee Non-refundable: $12,000
Monthly Fee: $10,035
Second Occupant: $2,191
Oak I
2 BR w/ Den
Sq. Ft. – 1,434
Entrance Fee Program:
Entrance Fee 90% Refundable: $574,000
Monthly Fee: $7,049
Second Occupant: $1,602
Rental Program:
Community Fee Non-refundable: $12,000
Monthly Fee: $9,959
Second Occupant: $2,191
Oak II
2 BR w/ Den
Sq. Ft. – 1,500
Entrance Fee Program:
Entrance Fee 90% Refundable: $630,000
Monthly Fee: $7,464
Second Occupant: $1,602
Rental Program:
Community Fee Non-refundable: $12,000
Monthly Fee: $10,418
Second Occupant: $2,191
Oak III
2 BR w/ Den
Sq. Ft. – 1,573
Entrance Fee Program:
Entrance Fee 90% Refundable: $640,000
Monthly Fee: $7,920
Second Occupant: $1,602
Rental Program:
Community Fee Non-refundable: $12,000
Monthly Fee: $10,925
Second Occupant: $2,191
Oak IV
2 BR w/ Den
Sq. Ft. – 1,687
Entrance Fee Program:
Entrance Fee 90% Refundable: $685,400
Monthly Fee: $8,314
Second Occupant: $1,602
Rental Program:
Community Fee Non-refundable: $12,000
Monthly Fee: $11,716
Second Occupant: $2,191
Oak V
2 BR w/ Den
Sq. Ft. – 1,894
Entrance Fee Program:
Entrance Fee 90% Refundable: $765,000
Monthly Fee: $9,423
Second Occupant: $1,602
Rental Program:
Community Fee Non-refundable: $12,000
Monthly Fee: $12,194
Second Occupant: $2,191